Comparison Chart PALL FSI® filter bags
We are proud to be saying that in 95% of the cases the customer can use our filters without any difficulty, which often results in significant cost savings
Pall FSI Has recently announced to quit the production of their filter bags and filters cartridges. All FSI® products will stop being manufactured on December 31, 2020.
Van Borselen Filters has the complete range of bag filters (beutelfilters). Which will retrofit the Pall Filter Specialist inc. Pall Filter bags. This mean we have the Polyloc, we have the X100 filterbags and the complete range of filterbags. Our filtersbags will fit in your housing and will click like the Plastic PolyLoc.
Van Borselen made a comparison chart so you can see whick filters we can replace.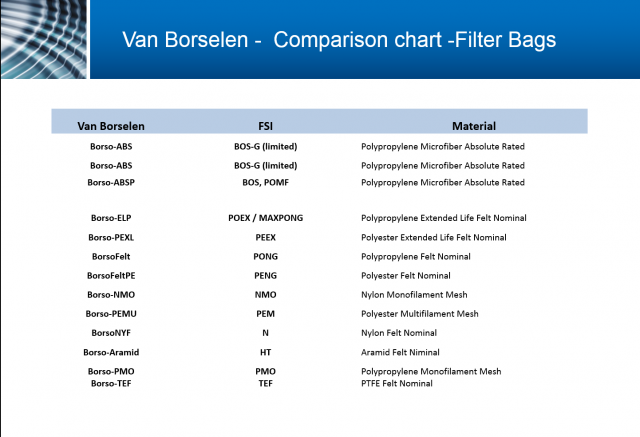 For more information , please contact us at: +31 (0)79-3412314 or info@vanborselen.nl
Filterbags Felt
Van Borselen has the answer when it comes to replace the felt filter bags from Pall FSI. Van Borselen has nearly 100 years of experience in the world of filtration. Our felt bagfilter (beutelfilters) are suitable for applications using vessel or open filtration systems and are designed to withstand higher solid loading. Van Borselen Filters only works with trusted manufacturers, which ensure a consistent great quality performance. We only work with the best materials possible to ensure you this higher quality. No matter the size of the particles, our extended life filter bags ensure superior filtration and have twice the dirt holding capacity of the standard filter bags. Due to the welded seams in our filter bags, there is no fluid bypass possible. We provide a variety of glazed and singed finishes to inhibit fibre migration. Van Borselen Filters also offers polyester inserted felts. These inserted felts include a reinforcing scrim needled inside the felt material, to provide added strength and durability, when a restrainer basket is not being used.
Nadelfilz Filterbeutel Available Materials:
PO Felt: Polypropylene (BPONG)

PE Felt: Polyester (BPENG)

Polyester:Polyester (BPEM)
N Felt: Nylon

HT Felt: High Temperature

TFE Felt: Teflon
Please request your free replacement sample here or for more information click here
Heeft u ondersteuning nodig bij uw In-process Integrity Testing?
Proces integriteitstesten zijn een cruciaal onderdeel om de kwaliteit van het eindproduct te garanderen door ervoor te zorgen dat de filters tijdens het hele proces naar behoefte werken. Dit verlaagt het risico en de kosten die gepaard gaan met het verwijderen van een slechte batch.
Wij zijn er om u te helpen. Een evaluatie is zo eenvoudig als een conference call met onze accountmanagers om uw huidige situatie te bekijken en aanbevelingen te doen over hoe en waar Integrity Testing voor uw proces te implementeren of hiervoor de juiste integriteitstester te leveren. Voor meer informatie over Integriteitstesten in uw proces kunt u hier contact met ons opnemen!For more information , please contact us at: +31 (0)79-3412314 or info@vanborselen.nl